Bank Local First
Where You Save Your $ Matters Too
Why Move Your Money?
Here are some of the many ways in which banking local benefits your community.
You have put your money to work growing our local economy.
Small businesses depend heavily on local banks and credit unions for financing. The graph below shows that though small business makes up 57% of the assets of large banks, these banks don't show the same loyalty back to their small business customers. Their lending back to small businesses is only 28% of their lending. Compare that to the 34% of small banks and credit unions. (Info & graph from newrules.org)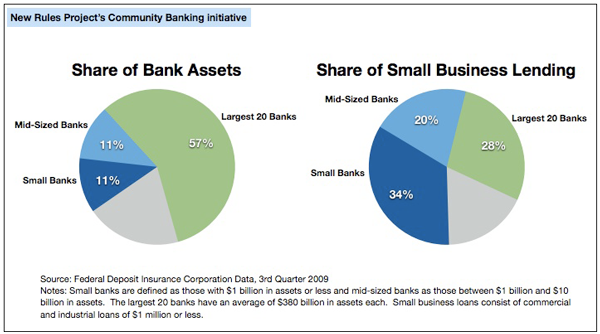 You are backing an institution that shares a commitment to your community.
When the decision makers live in the community, they are more likely to approve loans that larger banks may reject. When smaller, local banks commit to investing in local businesses, jobs are created, revenue is generated, and the local economy is healthier. (Info & graph from newrules.org)
You are supporting productive investment, not gambling.
Small banks and credit unions will turn your deposit into small biz loans and other investments in the community, rather than gambling it away on Wall Street. The graph below shows the percentage of loans that were delinquent and had to be written off between 2000 and 2010 for credit unions, community banks, and giant banks. (Info & graph from newrules.org)
Local banks generally charge lower fees.
Not only do you get the pleasure of banking with someone who lives in your neighborhood, with a small banks or credit unions, you actually pay less in fees than you would with larger banks. Now that makes good cents... (Info & graph from newrules.org)
What Other People are Saying
There are some other Bank Local First campaigns out there and we like what they're saying. Instead of reinventing the wheel, we're sharing the highlights with you and we encourage you to check out their sites where you can find lots of great information.